Recording, evaluating and imparting meadow orchards – Integrative monitoring concept for the sustainable development and communication of scattered fruit tree stands in Bad Schönborn
Sarah Pflüger, Dr. Maike Petersen, Prof. Dr. Alexander Siegmund
For this project, we used a drone to take high-resolution aerial photos of meadow orchards to create 3D models and orthophotomosaics. From these, computer algorithms can automatically recognise the trees and classify the species, vitality and maintenance condition of each individual tree. The data obtained is published in a web-based, interactive map and used for finding people interested in taking over pruning and care work for the trees.  
Meadow orchards refer to extensively cultivated meadows with scattered fruit trees with tall trunks and large crowns. Like hardly any other landscape, they reflect the character of the state of Baden-Württemberg and especially the character of the municipality of Bad Schönborn. Meadow orchards are testament of a traditional form of land use and are important for soil and water conservation, tourism and local recreation. They are also of outstanding value for nature conservation. It is beneficial for biodiversity that meadow orchards are not fertilised or treated with pesticides and that woody plants and meadow both exist in the same place. Thus, they provide food and a habitat for a wide variety of animal and plant species – up to 5000 species occur there, including rare and protected ones. This makes meadow orchards one of the most species-rich landscapes in Central Europe.

However, the number of meadow orchards in Baden-Württemberg is steadily declining. Only half of the orchard areas from the 1960s remain today. In addition, almost 80% of the orchard trees are not cared for to a sufficient extent, which is particularly due to the increasing age of the owners. In order to counteract this development, we are exemplarily creating a monitoring concept for the municipality of Bad Schönborn, which will record and evaluate the orchard stands and is intended to secure them in the long term.

In the first step, we use an unmanned aerial vehicle (UAV) to take high-resolution photos of the orchard areas from the air – not only in the visible light spectrum, but also in the near-infrared range, which gives information particularly on the health of plants. Orthophoto mosaics and 3D models of the orchards are then compiled from the photos. Based on these, indicators such as crown structure and diameter, tree height and distribution of leaf colours are calculated. These indicators provide information on the vitality and maintenance condition of the orchard trees and make it possible to identify the tree species from the aerial photographs.

The results of the monitoring are published in a web-based geographic information system (WebGIS). The interested public can use it to learn about the meadow orchards and add their own observations, which will supplement and update the data. In addition, the WebGIS enables contact between orchard owners and individuals who are interested in harvesting fruit in exchange for taking over the pruning and care work for the tree. Thus, the necessary work can be distributed among more people, so that this valuable cultural landscape is preserved in the long term.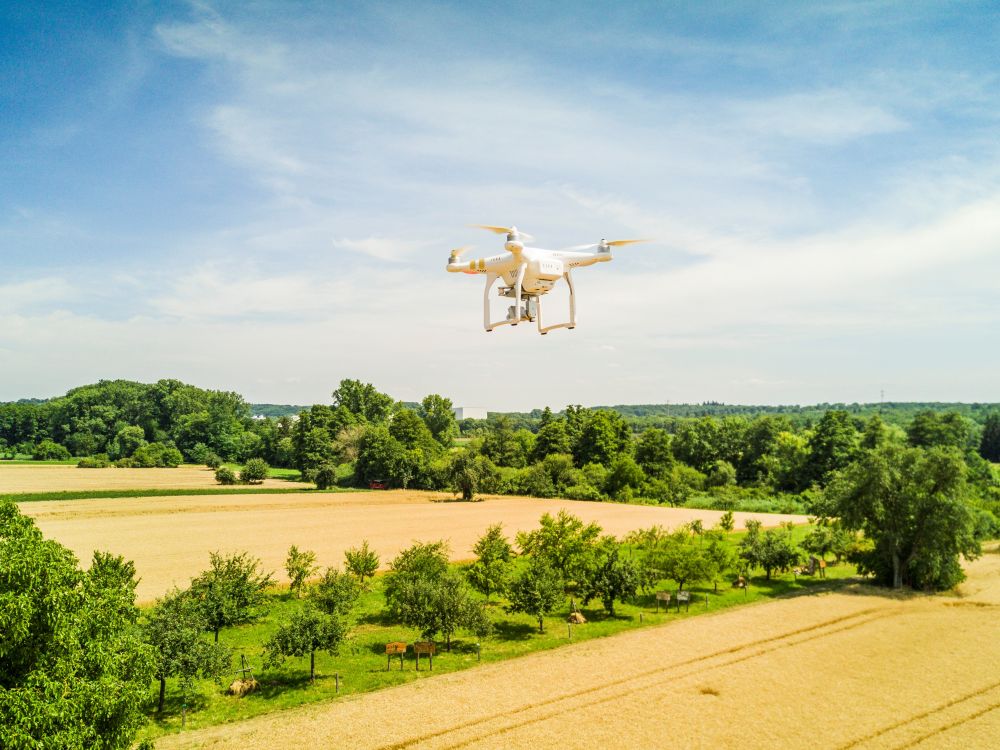 UAV of the Research Group for Earth Observation taking a picture of the Fruit Gene Garden in Bad Schönborn (Photo: Audi Environmental Foundation GmbH) 
Funded by Audi Environmental Foundation GmbH
Project period: 01.07.2018 – 31.12.2022