Remote sensing in focus (BLIF)
Dr. Raimund Ditter,Dr. Tobias Matusch,Prof. Dr. Alexander Siegmund
In cooperation with: Leiner & Wolff
"We would only understand the earth, if we could see it from above"
Sokrates was right with that statement after all. But only after many generations it was possible for all to have this fascinating view on the earth. Today, more than 2000 years later, the use of satellite images is, evidently, known as a key-method to understand the earth and learn more about its geo-scientific interrelationships. Meanwhile, the use of aerial and satellite images is a basic methodological competence in modern geography lessons. In order to integrate the possibilities of remote sensing into geography lessons in a way that is profitable for acquiring geographical action competence, it is necessary to have a student-adequate software solution. Such software was developed in the research and development project BLIF, embedded in a didactical overall concept.
In cooperation with the software company Leiner & Wolff, the development of this web application has been continuously optimized. It was tested in the classroom practice and afterwards evaluated in detail. By using the web application BLIF, students are able to work with and analyze Remote Sensing data independently in the context of a problem oriented geographical question. BLIF's areas of application are interdisciplinary. BLIF is closely connected to both the area of science and mathematics and to computer science. The possible questions come from diverse content areas, from current issues, such as climate change, desertification and pollution up to topics such as urban development, tourism, forms of agricultural land use, natural disasters or exploration of natural resources. The technical features range from basic tools, typical image processing and editing features, up to classification tools and the possibility of image analysis and image display. The central characteristic feature, however, is the usability, which is intuitive and well-adapted to the age group. For this, the user gets help from six selectable assistant guides in three levels of difficulty. His/her advices are short and comprehensible, all important terms are linked internally as popup windows provide further explanations. In order to not limit the educational benefit of BLIF through school-based administrative constraints, the software is designed as a web application, so that each user has access to the application from anywhere and without tedious software installation.
BLIF is available here.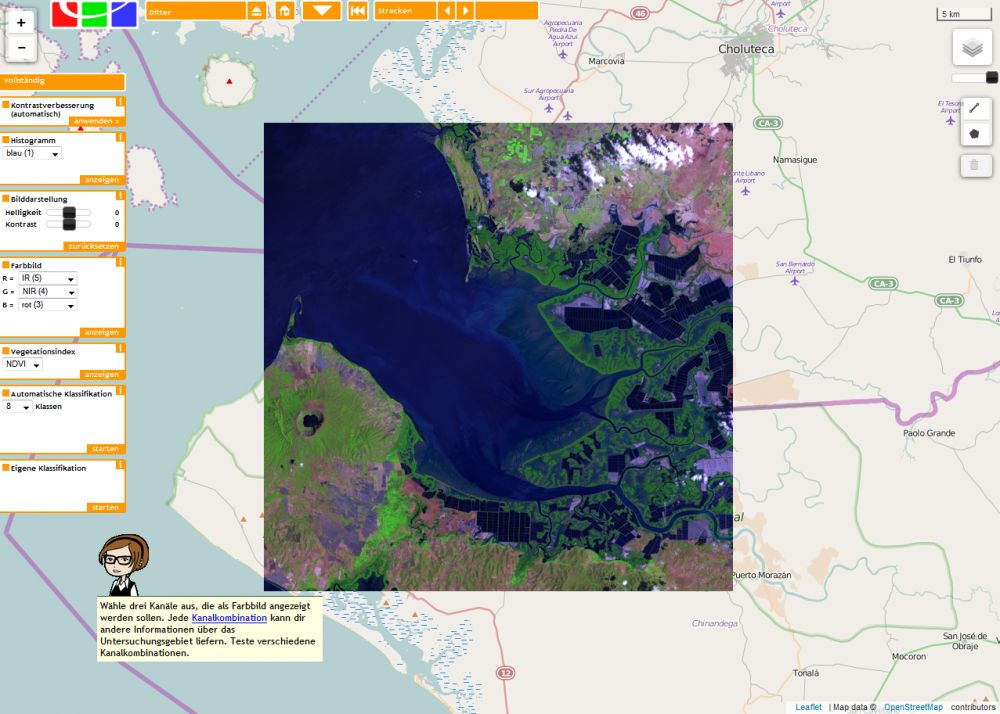 Main interface of the web-application BLIF
Project start: 2009
The project is supported by the Klaus Tschira Foundation.